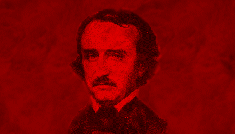 "Be silent in that solitude, Which is not loneliness- for then The spirits of the dead, who stood In life before thee, are again In death around thee, and their will Shall overshadow thee; be still."

- from "Spirits of the Dead"
Edgar Allan Poe was born in Boston, Massachusetts on January 19, 1909. His biological father was supposedly an alcoholic and left his mother while Poe was just a baby. At the age of two, his mother died and Poe was adopted by Mr. and Mrs. John Allan of Virginia.
At the age of 17, Poe attended the University of Virginia for a single term but was forced to withdraw because his adopted father refused to fund his education, leading to a falling out with the man.
It was at this point that Poe found alcohol and its ability to seemingly soothe his troubled mind.
Eventually, he moved back to Boston and joined the Army, achieving the rank of Sargent Major. During this stint, his first work, Tamerlane and Other Poems, was published.
After an honorable discharge from his military service, Poe moved to Baltimore to live with his aunt Maria Clemm and her daughter, Virginia. While there, he attended West
Point but was kicked out.


WORKS
This is by no means a comprehensive listing of Mr. Poe's works.
Titles available at
OTHER AUTHORS
Shortly after the death of his adopted father, who left him nothing in the will, Poe became an assistant editor for The Southern Literary Messenger.
In May of 1836, Poe married the daughter of his aunt, Virginia, who was not yet fourteen years old. He loved the girl very much and kept her, along with his aunt very close to him.
Poe continued to write and finally, in November of 1845 his most famous work, The Raven and Other Poems, was published, marking a high point in his literary career. This, however, was not to last. With the death of his beloved Virginia in 1847, Poe fell back into the loving arms of alcohol and suffered a serious bout of depression.
A year later, and Poe is once again in love, working to win the favor of the married Helen Whitman, proposing to her twice only to be rejected. His persistence, however, won her acceptance of his hand but, on the day of their wedding, Poe was left at the altar and once again finds the bottle, once even attempting suicide.
The last year of Poe's life was spent in an alcoholic haze and he eventually drank himself to death. His body was found near a polling place on October 7, 1949, marking the end of the life of one of the most chilling and marvelous literary minds.