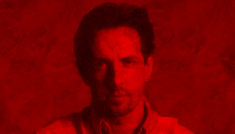 "Memory, prophecy and fantasy --
the past, the future and
the dreaming moment between--
are all in one country,
living one immortal day.

To know that is Wisdom.

To use it is the Art."

- from Everville
Clive Barker was born October 5, 1952 in Liverpool, England and presently resides in Los Angeles, California.
Besides writing, he is a well established artist and playwrite and is perhaps best known for the now classic HELLRAISER films.
Other film credits include NIGHTBREED, LORD OF ILLUSIONS, the CANDYMAN pictures and the forthcoming THE THIEF OF ALWAYS.